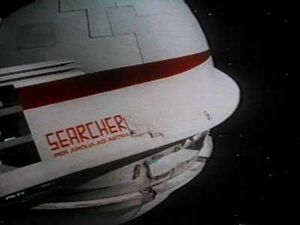 Propelled by plasma drive, the "Searcher" was a huge spacecraft assigned to search the galaxy to find the lost tribes of the human race who spread among the stars after World War III of the 20th century.
The ship's exterior hull displayed the words
SEARCHER
PER ARDUA AD ASTRA
 [1]
Housed in the belly of the Searcher starship were smaller, sleek fighter craft used for defense called Starfighters, together with a number of shuttlecraft.
The model of the Searcher was a rebuild of the Lyran Queen featured in the Season 1 episode Cruise Ship to the Stars. [2]
Heading Image from TV Acres Website
Community content is available under
CC-BY-SA
unless otherwise noted.