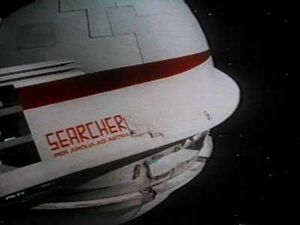 The Searcher
[
]
Propelled by plasma drive, the "Searcher" was a huge spacecraft assigned to search the galaxy to find the lost tribes of the human race who spread among the stars after World War III of the 20th century.
Crew
[
]
Admiral Efram Asimov (Jay Garner), supposedly a descendent of the sci-fi writer Isaac Asimov
Lt.

Devlin

(

Paul Carr

), the Admiral's assistant
Colonel Wilma Deering (

Erin Gray

), a fighter pilot
Captain William "Buck" Rogers (Gil Gerard), a 20th century Terran astronaut
Hawk (

Thom Christopher

), a part human, part bird who sought survivors of his own race. He flew a hawk-shaped fighter craft.
Dr. Goodfellow (

Wilfrid-Hyde White

), an elderly scientist who created an intelligent but rude robot named Crichton.
Twiki (

Felix Silla

), the dwarf robot companion of Buck Rogers.
Latin
[
]
The ship's exterior hull displayed the words
SEARCHER
PER ARDUA AD ASTRA
 [1]
Housed in the belly of the Searcher starship were smaller, sleek fighter craft used for defense called Starfighters, together with a number of shuttlecraft.
Behind the scenes
[
]
The model of the Searcher was a rebuild of the Lyran Queen featured in the Season 1 episode Cruise Ship to the Stars. [2]
Sources
[
]
Heading Image from TV Acres Website
References
[
]